VERSES. VOL I
The Kitchen
January 18, 2019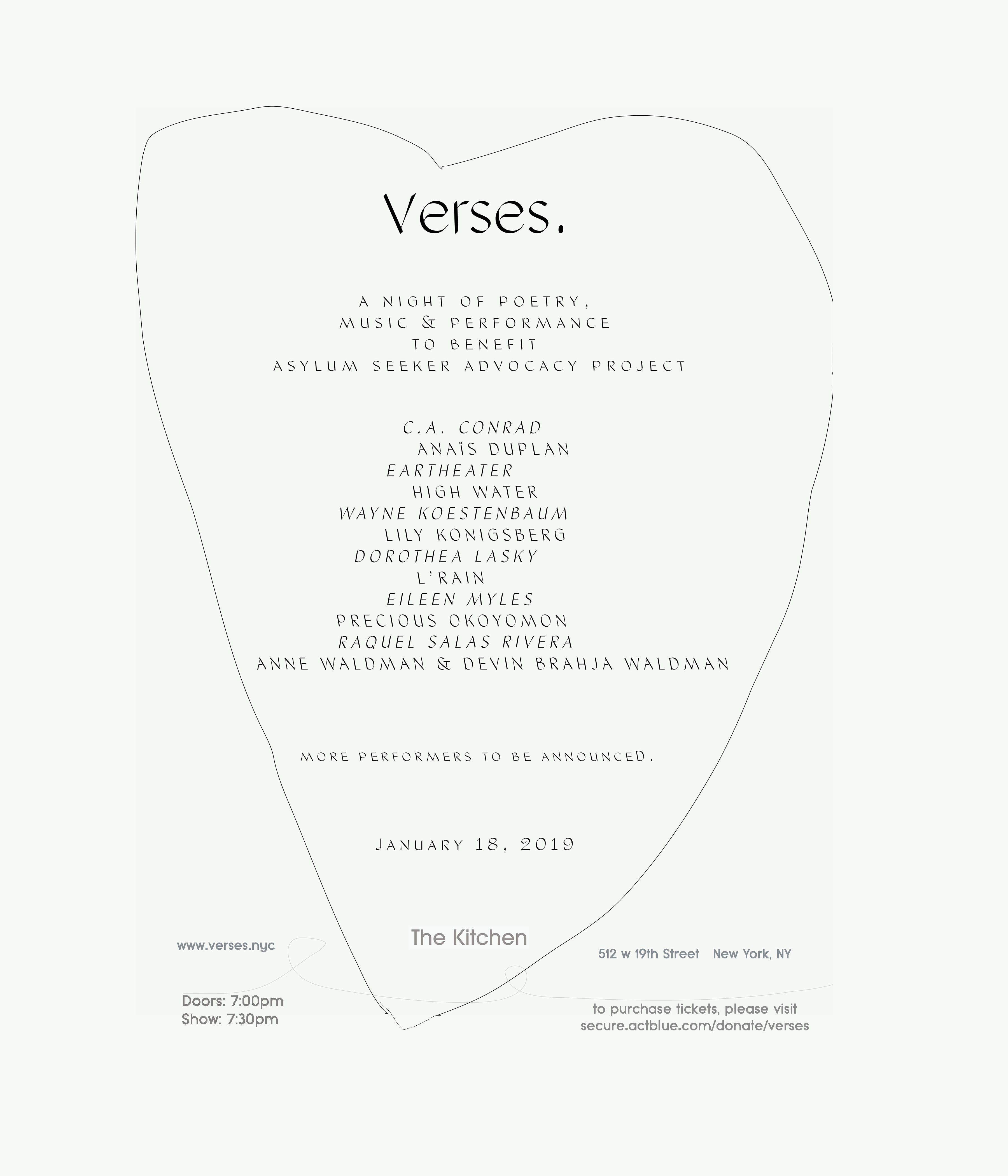 VERSES. VOL I

occurred on January 18, 2019, at The Kitchen, NYC, to benefit the

Asylum Seeker Advocacy Project

.

Performers

The night featured perfromances by Anaïs Duplan, High Water, Waynne Koestenbaum, Lily Konigsberg, Dorothea Lasky, L'Rain, Eileen Myles, Precious Okoyomon, Raquel Salas Riveria, and Anne Waldman with Devin Braja Waldman.

Artists Yael Malka,

photography

Owen Smith-Clark

, videography

Team

Eliza Soros, Organizer + Co-Curator

Eliza Barry Callahan, Organizer + Co-Curator

Gussie Roc, Organizer + ASAP Partnership

Sam Williger, Merchandise Production

Andrew Stocker, Stage Manger

Jack Staffen, Production Assistant

Nina Channing, Production Assistant

Elliott Yancy, Production Assistant



The Asylum Seeker Advocacy Project (ASAP) provides emergency legal aid to asylum seekers across the United States, preventing more than 400 deportations in over 30 states to date. ASAP's private online community connects more than 3,000 asylum-seeking mothers to one another while giving them the tools they need to take control of their legal cases and advocate for their families. ASAP also magnifies the advocacy efforts of asylum-seeking families through litigation, press, and policy work. To donate, visit: https://asylumadvocacy.org/donate.






CaCONRAD

is the author of 9 books of poetry and essays.

While Standing in Line for Death

(Wave Books), received the 2018 Lambda Award. A recipient of a Pew Fellowship in the Arts, they also received The Believer Magazine Book Award and The Gil Ott Book Award. Their work has been translated into Spanish, Greek, Polish, Norwegian, Portuguese, Danish and German. They teach regularly at Columbia University, in NYC, and Sandberg Art Institute, in Amsterdam.
Anaïs Duplan
is the author of a full-length poetry collection,
Take This Stallion
(Brooklyn Arts Press, 2016) and a chapbook,
Mount Carmel and the Blood of Parnassus
(Monster House Press, 2017). His poems and essays have been published by
Hyperallergic
, PBS News Hour, the
Academy of American Poets
,
Poetry Society of America
,
Bettering American Poetry
, and
Ploughshares
. His music criticism has appeared in
Complex Magazine
and
THUMP
. Duplan is a curator who has facilitated artists' projects and exhibitions in Chicago, Boston, Santa Fe, Reykjavík, and Copenhagen. Duplan's video art has appeared, or is forthcoming, in exhibitions at Flux Factory, Daata Editions, the 13th Baltic Triennial in Lithuania, and the Institute of Contemporary Art in L.A. Duplan is the founder of the Center for Afrofuturist Studies, an artist residency program for artists of color, and is currently a joint Public Programs Fellow at the Museum of Modern Art and the Studio Museum in Harlem.
Eartheater
is the pseudonym of the Queens-based artist, multi-instrumentalist, composer and vocalist, Alexandra Drewchin. As Eartheater, she distills foley-filled digital production, a three-octave vocal range, and classical composition into works suspended between obsessively detailed sonic tapestries and almost recklessly gestural electronica. Her recorded output is enhanced by her viscerally emotive live performances that capture her fearless physical investment and gut-wrenching vocal sincerity. Drewchin made her full-length debut as Eartheater in 2015, releasing two consecutive albums on Hausu Mountain —
Metalepsis
and
RIP Chrysalis
. Since then, she's pursued a rigorous tour schedule, sharing bills with contemporaries including Actress, Oneohtrix Point Never, Jenny Hval, Yves Tumor, Klein, Juliana Huxtable, Tim Hecker, and Nicolas Jaar. In 2018, Eartheater signed to renowned experimental label PAN to release her third full-length album,
IRISIRI
.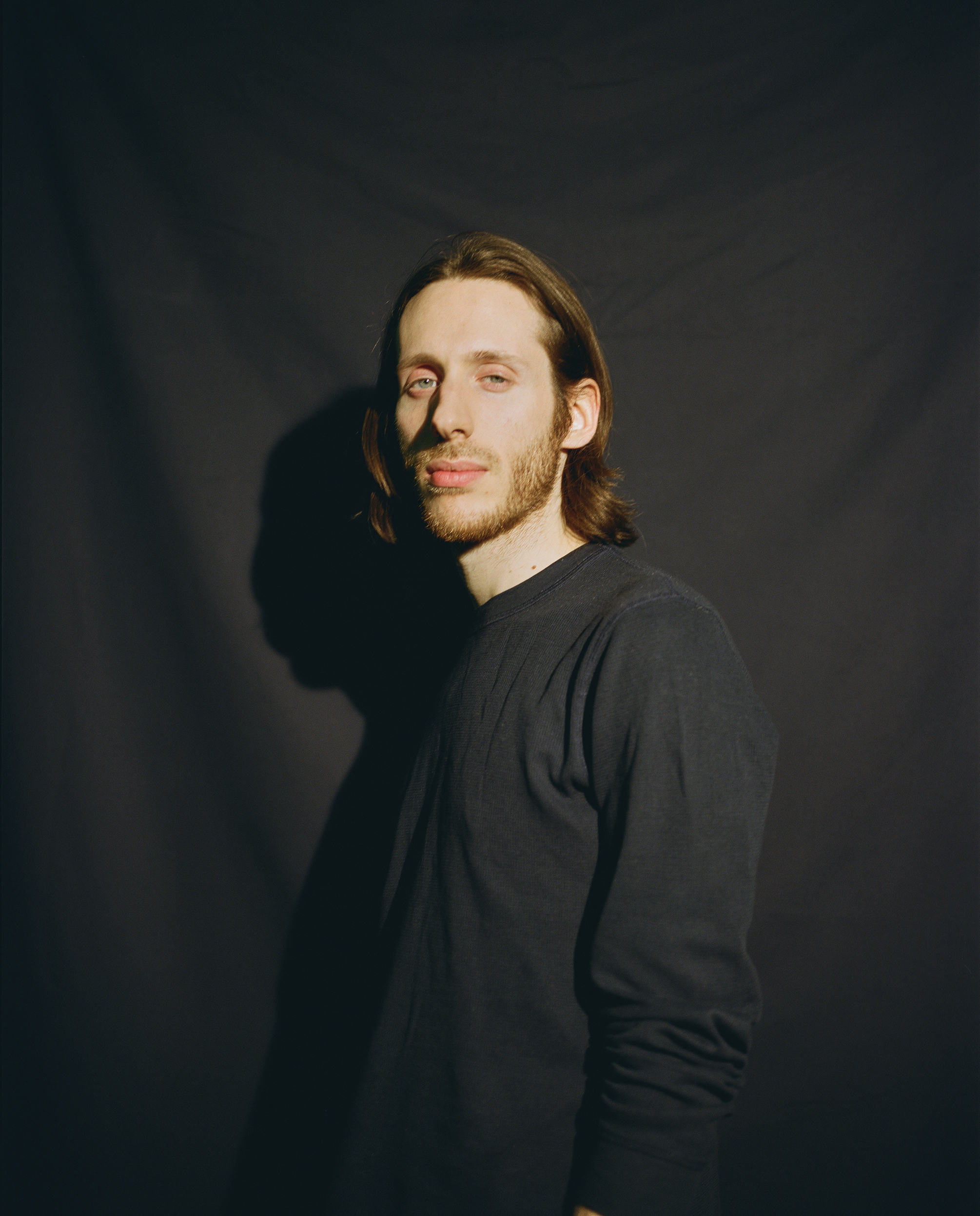 High Water
is Will Epstein, a composer, recording artist and multi-instrumentalist born in New York City. He has performed internationally, released records of songs under the High Water moniker, and composed music for installations and films. He has recently collaborated on projects with the dance company Gallim at the Met Breuer and the Joyce Theater, as well as with renowned artists Marilyn Minter and Laurie Simmons. He is a regular fixture in New York's improvised music scene and has released multiple collections of work with the independent label Other People.
Wayne Koestenbaum
has published nineteen books of poetry, criticism, and fiction, including
Notes on Glaze
, T
he Pink Trance Notebooks
,
My 1980s & Other Essays
,
Hotel Theory
,
Best-Selling Jewish Porn Films
,
Andy Warhol
,
Humiliation
,
Jackie Under My Skin
, and
The Queen's Throat
(a National Book Critics Circle Award finalist). His newest book of poetry,
Camp Marmalade
, was published in 2018. He has exhibited his paintings in solo shows at White Columns (New York), 356 Mission (L.A.), and the University of Kentucky Art Museum. His first piano/vocal record,
Lounge Act
, was released by Ugly Duckling Presse Records in 2017; he has given musical performances at The Kitchen, REDCAT, Centre Pompidou, The Walker Art Center, The Artist's Institute, and the Renaissance Society. He is a Distinguished Professor of English, Comparative Literature, and French at the CUNY Graduate Center in New York City.
Lily Konigsberg
was raised in New York City and wrote her first song at the age of two, which is still unmistakably hers. She went on to learn a variety of instruments as soon as she could utilize them for songwriting. Always at the center of a cast of musicians that were constantly embardking on new projects to pursue new ideas and musical desires, she graduated from Bard College, going on to form the trio Palberta that is still active today. She continues to pursue her solo music, while driving and enhancing other bands such as Eyes of Love, The Cradle, and Lily and Horn Horse.
Dorothea Lasky
I am a poet and the author of five full-length collections of poetry. My newest book is
Milk
(Wave Books). I am also the author of
ROME
(Liveright/W.W. Norton) and
Thunderbird
,
Black Life
, and
AWE
, all out from Wave Books. I have also written several chapbooks, including
Snakes
(Tungsten Press, 2017) and
Poetry is Not a Project
(Ugly Ducking Presse, 2010). My writing has appeared in
POETRY
,
The New Yorker
,
The Paris Review
,
The Atlantic
, and
Boston Review
, among other places. I am a co-editor of
Open the Door: How to Excite Young People About Poetry
(McSweeney's, 2013). I am a graduate of the MFA program at the University of Massachusetts-Amherst. I have a doctorate in creativity and education from the University of Pennsylvania. I also have been educated at Harvard University (where I was part of their Arts in Education program) and Washington University. I am always looking for more opportunities to do research on creativity and education, so please contact me if you are interested in collaborating in a research project.
I have taught poetry at New York University (where I directed their Writers in Florence program), Wesleyan University, and Bennington College, among other places. In 2013, I was a Bagley Wright Fellow in Poetry. Currently, I am an Associate Professor of Poetry at Columbia University's School of the Arts, where I direct the Undergraduate Creative Writing Program, act as a co-Faculty Advisor for Columbia Artist/Teachers (CA/T), and organize the summer writing program. I live in New York City. I love to teach and make things more than I like to do anything.
L'Rain
is the solo project of multi-instrumentalist and songwriter, Taja Cheek: an homage to her mother and an exploration of the complexity of grief. Her eponymous debut record has been featured in publications and outlets including
Artforum
,
Pitchfork
,
Red Bull Radio
,
Teen Vogue
,
The New York Times
, and WNYC. She frequently performs with bandmates Ben Katz (synthesizers and saxophone), Buz Donald (drums and percussion), and Devin Starks (bass).
Eileen Myles
came to New York from Boston in 1974 to be a poet, subsequently a novelist, public talker and art journalist. A Sagittarius, their twenty books include
evolution (poems)
,
Afterglow (a dog memoir)
, a 2017 re-issue of
Cool for You, I Must Be Living Twice/new and selected poems
, and
Chelsea Girls
. Eileen is the recipient of a Guggenheim Fellowship, an Andy Warhol/Creative Capital Arts Writers grant, four Lambda Book Awards, the Shelley Prize from the PSA, and a poetry award from the Foundation for Contemporary Arts. In 2016, Myles received a Creative Capital grant and the Clark Prize for excellence in art writing. In 2019 they'll be teaching at NYU and Naropa University, and they live in New York and Marfa, TX.
Precious Okoyomon
is a queer poet, artist, and performer living in New York. She is the author of
But Did You Die,
forthcoming from Birds LLC. Her writing has been published in numerous places including
The Believer
,
Lambda Literary
, and
Best American Experimental Writing
. She is a Leo that is very low key evil.
Raquel Salas Rivera
is the 2018-19 Poet Laureate of Philadelphia. Their work has appeared in journals such as the
Journal of the Institute of Puerto Rican Culture
(Revista del Instituto de Cultura Puertorriqueña)
,
Apogee
,
PEN Poetry Series,
and
McSweeney's
. From 2016-2018, they were co-editor of
The Wanderer
and co-editor of
Puerto Rico en mi corazón
, a collection of bilingual broadsides of contemporary Puerto Rican poets. In summer 2018, they worked alongside Raena Shirali, Kirwyn Sutherland, and Ashley Davis organizing a festival called We (Too) Are Philly, inspired by Langston Hughes' poem, "I, Too." They are the recipient of fellowships and residencies from the Sundance Institute, the Kimmel Center for Performing Arts, the Arizona Poetry Center, and CantoMundo. They are the first recipient of the Ambroggio Prize from the Academy of American Poets for their dual-language book
x/ex/exis
. They have authored six chapbooks as well as four full-length poetry books. Their book,
lo terciario/the tertiary
, which confronts the PROMESA bill, was on the 2018 National Book Award Longlist, and was selected by Remezcla, Entropy, Literary Hub, mitú, Book Riot, and Publishers Weekly as one of the best poetry books of 2018. In 2019, Birds, LLC will publish their fifth book,
while they sleep (under the bed is another country)
, which will include images created by the Puerto Rican artist Mariana Ramos Ortiz.
Anne Waldman
raised on Macdougal Street in NYC, has been a prolific poet and legendary performer of her modal structures for many years, creating hybrid forms for the long poem, both serial and narrative, as with
Marriage: A Sentence, Structure of the World Compared to a Bubble
,
Manatee/Humanity
, and
Gossamurmur (Penguin Poets)
. She is also the author of the magnum opus
The Iovis Trilogy: Colors in the Mechanism of Concealment
(Coffee House Press 2011), a feminist "cultural intervention" taking on war and patriarchy, which won the PEN Center 2012 Award for Poetry. Her most recent book is
Trickster Feminism
(Penguin 2018). She has been deemed a "counter-cultural giant" by Publisher's Weekly for her ethos as a poetic investigator and cultural activist, and was awarded the American Book Award from the Before Columbus Foundation for Lifetime Achievement in 2015. She has also been at the forefront, for many decades, in creating poetic communities and has focused on the necessity of archival practices to insure the memory of some of the 20th and 21st century's most precious literary histories and oral recordings. She was one of the founders of the Poetry Project at St Mark's Church In-the-Bowery, and was its Director for a number of years, and then went on to found The Jack Kerouac School of Disembodied Poetics at Naropa University with Allen Ginsberg and Diane di Prima in 1974. She has continued to work at Naropa as a Distinguished Professor of Poetics and Artistic Director of its Summer Writing Program whose theme for its next summer session (June 9-29, 2019 ) is "Against Atrocity." She is the editor of
The Beat Book
and co-editor of
Civil Disobediences: Poetics and Politics in Action
, and
Beats at Naropa
and most recently,
Cross Worlds: Transcultural Poetics
. She has collaborated with numerous artists including Douglas Dunn, Ed Bowes, Meredith Monk, Richard Tuttle, Par Steir, Thurston Moore, and own family band Fast Speaking Music with musicians Ambrose Bye, and Devin Brahja Waldman. She has written the libretto for "Artaud in the Black Lodge" for composer David T. Little, which will premier in the fall of 2019. She has presented her work at conferences and festivals around the world, including those in Jaipur, Hangzhou, Hong Kong, Madrid, Grenada, Brussels, Paris and at the Casa del Lago in Mexico City. She worked for the State Department lecturing at Muslim colleges in Kerala, and has worked teaching poetry to Berber School children in Marrakech, for the Tamaas Foundation. She recently visited the village of Tlahuitotepec outside Oaxaca with a team of musicians poets and translators to work with students at the famed CECAM music school.
Devin Brahja Waldman
is a New York multi-instrumentalist and composer. He was nominated by The American Academy of Arts and Letters for an award in composition in 2018. Waldman is a member of William Parker's new sextet called 'What It Is.' He has performed with legendary rock musicians including Patti Smith, Malcolm Mooney, Thurston Moore, and Godspeed You! Black Emperor; and has collaborated with his aunt, poet Anne Waldman, since the age of ten.
All photographs by
Yael Malka
.
Unfortunately, due to last-minute unforeen circumstances , EARTHEATER and CAConrad were unable to participate.
---